SUPPORT THE LOW END THEORY LAPTOP FUND!!!!!!!!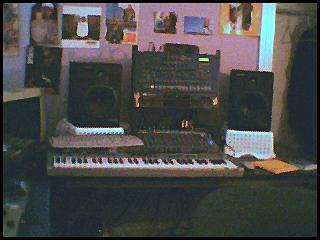 And buy some fine gear from me off ebay. Shazam. Im trying to get a laptop to run in the studio due to Serato Scratch and Reason 3.0 with my MPC 2000xl. All gear is in damn good condition and most of it comes with a lot of extras. Check the auctions.
And here is some funky ass music for the night. Its kind of late and I got work early so imma be quick.
1.
Aint No Body Better Then You - Bobbie Knight and The Universal Lady
Man this is a real funky joint. Real catchy horns and bassline. Shit is dope. The lyrics have been stuck in my head for the last god damn week. Real nice swtich ups and shit just grooves out. Not really much info on the group so sorry I cant really give much of a bio.
2.
Expo '83 - Backyard Heavies
Man this is a mean ass break. This is a classic funk jam, with a real sick open break in it. The drums just are super funky and those keys are real dope. Its a real dope instrumental and Pete Rock has used it before on an intro. This is a pretty rare groove so look out for the 45, which has Soul Junction on the A-Side.
3.
Funky Washing Machine - World Wonders
This is a hot cut also. Real sick horns and a real solid drum beat. Also some funky ass guitars laid on top of it. Its an instrumental and just really jams out.
Kenny Dope
threw it on one of his comps for BBE so scoop it up.
And with that I gotta goto bed. Please buy some gear though. If I get a laptop, that means more and better posts coming out this bitch. So do us all a favor and get a sampler off me. Peace.