Serato Scratch Live And Soulmans World Of Beats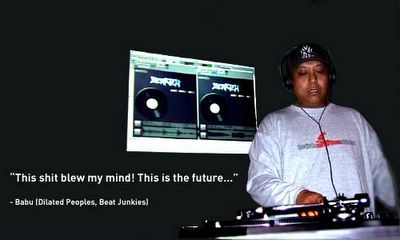 DJ Babu: Cutting it up mp3 stylee
Whats up all. Just got
Serato Scratch Live
and have been so busy playing with it, I havent had time to update the blog. If you havent heard of Serato yet, its bascially a way to use vinyl records to control mp3's and other audio files from your pc. Here is what Rane has to say about it:
The Scratch LIVE interface connects almost any computer to an ordinary pair of turntables or CD players, and the software faithfully tracks every subtle movement of the stylus on the included control records. The same movement is then instantly applied to any digital audio file in the user's collection producing a sound and feel that is indistinguishable from vinyl.

and

...the software has all the features of a modern DJ player, including beat extraction, real time tempo metering, waveform coloring based on spectral content, multiple cue points per track, and full iTunes library integration. Tailored for performance work, tracks are rapidly located via full text search of ID3 tags, or even recorded directly from a microphone, and assigned to turntable control with a single key press.
Its real ill. Feels so much like vinyl its scary. It best be the bomb digs though with it retaling at $540 at most online shops. I went through
ZZounds
cause if you live in the Tri-State area and PA, they ship almost overnight while still using ground. So thats free shipping. I can cut my own beats, mix exclusive shit that didnt get released on wax, juggle beats, practice scratching and mixing, record shit straigt into it and much more. Its overwhelming how many different ideas and usages you can do with it. All using my mixer and two records. Its the ultimate DJ tool. The Itunes intergration is insane. I made like 30 playlists of all the different genres of music I have, and just have been spending hours and hours organizing it. Its dope though casue then its like having my crates around. And it updates instantly when you mess with itunes. Also tons of DJs are endorsing it. In the latest issue of
Remix
, (the one with that nerd
Billy Corgan
on it) there was an article of questlove saying that he was paying someone to burn his vast record collection into itunes. Crazy shit. I was looking into
Final Scratch by Stanton
, but I heard better feedback and stabilty with Serato and that sold me over. Here is a mix I made a few nights ago with it.

Serato Mix
:
1.Count Bass D - no time for faking
2.AZ- Never Stop
3.Mobb Deep - Drink Away
4.Beatnuts - get funky
5.Common - Penny for my thoughts
6.Jay X - feeling it
8.Emanon - 6 million
9. Roots - Up your lighter
And now I want to talk about a dude that is a legend when it comes to rare grooves and breakbeats. Dude is Phill Stroman a.k.a. Soulman. Here is a little bio he did on himself for his website.

Grew up in Connecticut about a half hour away from the Bronx, NY. Got down with the music back in 1978 (before it was even called hip-hop and before there were any rap records) as a shorty standing behind the ropes at parties, watching the MCs and DJs perform. Started rhyming, deejaying, and collecting records in 1983 after moving to Harrisburg and then Philadelphia, Pennsylvania ("Being away from the New York area made me appreciate hip-hop much more, and I tried to make the transition from observer to performer"). Signed with Cutting Records in 1984 as a member of The Devestating 2 but never released a record. Became obsessed with breakbeats in the late 1980s.

Signed with Easy Street Records in 1990 as producer and creator of the novelty group Baritone Tiplove and released a single, "Young Ladees Drive Me Crazee", and an album, "Livin' Foul" in 1991 (If you find any copies, please burn them immediately!!!) Moved on to doing a comic strip for Rap Sheet magazine, which soon led to writing feature articles and the infamous World Of Beats column (which was Rap Sheet's most popular column during its run, garnering hundreds of letters from fans all over the world). Record collection swelled from less than 3,000 to over 10,000 during this period.

Left Rap Sheet after 3-4 years of "dopeness". Began selling beats to producers at the Roosevelt Soul/Disco record convention in New York (clients include Pete Rock, Diamond D, Lord Finesse, Buckwild, PM Dawn, L.E.S., Onyx, Mobb Deep, Trackmasters, The Hitmen, Q-Tip, Organized Confusion, Ski, Rashad Smith, Jay Dee, Salaam Remi, Beatnuts, Beatminerz, and many more). Produced the independent single "You Ain't Ready" by Soma on Apex Records in 1997, scoring a minor underground hit. Released Soulman's World Of Beats Vols. 1, 2, & 3: phat breakbeat mixtapes that have been met with overwhelmingly positive reviews.

Record collection now estimated around 15-20,000.
This is an old bio, but Phil is still around and made a little cameo on
Beatdawg's Deep Crates Documentory
talking about sifting through records. Soulmans website,
World Of Beats
, is what you need to be hitting up. Its got that crack. Its a good way to kill a few hours and read interviews with all kinds of producers and other dope crate diggin stories. It is the best digger site around and has links to a bunch of other dope sites. He hasnt updated it though in years which kinda sucks, but its all good. He also released a bunch of
mixtapes
with him cutting up rare ass grooves and dope music. I think most of em are outta print though. I got a few off my boy but I heard he will sell you ones though if you email him. Ive posted half of one below that is straight fire. So check that out.
Soulmans Classics Pt. 2
Peace.