DJ Premier's Greatest Hits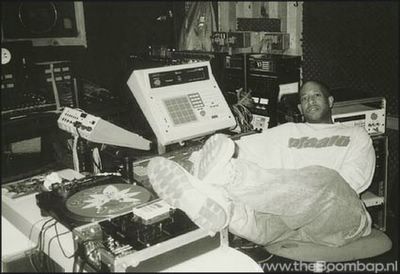 The shit is real.
Just posting up something real fast before I hit the bars. Christopher Martin, aka DJ Premier has been one busy dude in the last ten years. Primo has been killing shit with his rock solid production and his perfectly phrased cuts that make up all the hooks in almost every song he has produced. Primo spent a lot of time in Texas and NYC in his earlier years. He used to goto a family members crib in Brooklyn and he heard all the block party tapes, radio, and cats on the street and that shit just stuck a chord with him. He studied computer science in a school outside Houston and he used to go by the name "Waxmaster C". He learned how to play a bunch of different instuments and he was managing a record store down there. He moved back to Brooklyn and met up with Guru. Guru had a group named Gangstarr that recorded with Mark The 45 King. What happened was that Gurus partner Mike Dee moved back to Boston so Guru needed to find someone to fill the void. While chilling listening to demo tapes Guru heard this cat that he needed to get up with. They met and got signed to Wild Pitch records and then they put out a single, Manifest and then an album, No More Mister Nice Guy. It was a little gritty and un-refined, but cats was feeling it. They were molding jazz and hip hop together to make a unique sound that drew a lot of attention. They were then asked to contribute to the Spike Lee joint, Mo Better Blues. After that they stepped there game up real fierce and dropped some east coast classics such as, '91's "Step In The Arena and the '92's banger", "Daily Operation". These albums were serious. They paved the way to a long and prosperous career for the two of these cats. Primo was also lacing mad other emcees in the 90's, doing a lot of freelance production work. He setup shop at the legendary D&D studios with his MPC-60 and s950, and just churned out track after track. Dude knows how to chop a loop up. Its crazy. He also will sample himself playing keys and then process it like all his other samples. He uses a lot of classic breakbeats, but chops them joints up into hip hop form. I've always been somewhat inspired by this cat on his technique on production. He keeps it minimal but his music just has so much soul and feeling he can get away with keepin it simple. Also the way he works with artists is real dope also. His way of working with Guru to make tracks was that Guru would write up a list of names for songs and Primo would just sit there and compose something to the name. Then Guru would do the track. He just vibes with who ever he is working with and really caters a track to them. That's some real producer shit right there. Not just some cat that makes beats. He sees projects through and puts his stamp on it and makes the artist shine. He really has established himself as one of hip hops greatest producers and has inspired many clones and imitators. Dude is disgusting with his skill. Also the DJ element he brings to all his tracks is crazy. He has really inspired mad producers and has been a dominant force in hip hop for a long fucking time. Lately I haven't been feeling many of his beats, he kinda sounds like a bad impersonation of himself now, but he is a legend so there is no love lost. I was seriously surprised at his discography though (
heres an old list which is missing shit
t). He has worked with all kinds of artists and crossed mad genres with his gritty ass beats. From working with jazz cats like Branford Marcellus, and even gay lame rock rap groups like Limp Bisket, he still remains rugged as fuck. I recently heard he is doing beats for Christina Aguerila. Shit is crazy. Tonight though I would like to feature 10 tracks of his that step outside of the Gangstarr steez and where he shines with other emcees. Im not that big a fan of Guru, his flow and content is a little beat in my opinion, but primo has carried the group to legendary status. I had to throw up one of my favorite Gng tracks though cause it is a Primo post. And with that here, is my favorite premo tracks..
1.
Ease My Mind (Primo Remix) - Arrested Development
Man I love this joint. This is seriously one of my favorite all time tracks. The steady key riff, and that bassline just is disgusting. MC Speech kills it with his dope introspective rhymes about being frustrated and needing to relax and get yourself together. Also he talks about the inner demons that drag us down. Shit we can all relate too.
2.
The Best Part - J-Live
J-Live is one talented cat. Son can emcee, produce, and dj. Thats pretty rare lately for a cat that is the triple threat. This track here was off J's first album, The Best Part. Primo laced him with this beat and man this shit just gets stuck on repeat whenever I hear it. Fr0m that panflute or whatever the fuck it is in the intro to that in your face bassline and those knocking drums, shit just gets stuck in your head for days. J spits about his love for hip hop and how it captured him from the jump. He goes through his history and how he developed and got into the game. I also love it when the beat drops out and goes into a handclap metronome and J just rocks with that oldschool freestyle flow. Shit is so tight. J just dropped a new album called,
The Hear After
, so check that shit out. Its pretty good.
3.
The Love Is Gone - Jaz O and Immobiliare
Another heater. This beat seriously is some of the sickest shit Ive heard in a long time. Man the way primo does the variations and the cuts on the hook makes me want to turn on my mpc. Primo has a way of incorporating weird background sounds that add a lot to his tracks. On this one he got these electronic noises and some cat breathing up in the patterns. Its crazy. He is on some next level shit. Primo did this for Jaz O and The Immoblilares album called
Kings Kounty
but it was also featured on the D&D Part 2 comp album that was released like 2 or 3 years ago. Jaz O was actually Jigga's mentor and was making tracks in the 80's and 90's. He didn't blow up like Hova, but dudes got skills. Im not really up on this other dude. Shit sounds aight though.
4.
Machine Gun Funk (remix) - Biggie
This is one of my favorite Biggie tracks, but Primo flips it crazy. He makes it alot more funkier and gritty. That ill bassline and that delayed stab sample that comes in every so often is sick. This was on Lord Sear's radio show back in the 90's. Just a sick ass track.
5.
Doobie Ashtray - Devin Tha Dude
Damn. This shit is so ill. Primo hits the West Coast for this joint here and laces Devin with one of the funkiest tracks I've ever heard. This is why I love Primo cause homes really has made classics. And not like 5 or 6 ill singles, but like 40 or 50 classic tracks that still get mad play to this day. That's pretty impressive. Anyways though, this track just is so crazy. He has that dope guitar going through and that whole melancholy vibe that flows throughout the whole track. Devin spits about when you are all alone, broke, and when you trying to puff, someone done stole your roach out the ashtray. Just kinda being shit outta luck and just frustrated and real bummed the fuck out. The beat compliments it to a tee.
6.
Devils Pie - D'Angleo
Now you really wont see alot of R'n'B cats gracing the pages of The Low End Theory. Just aint my thing. But man this joint here breaks all the rules. I first heard this track on the Belly Soundtrack and I lost my mind when it came on. The beat is just perfect. That sick as bassline and those horn stabs and that blip noise just seal this shit up. D is singing about the drug game and getting "a slice of the Devils pie". He gets deep with the concept and kicks some dope real shit about greed and evils of this line of work. My favorite part is towards the end where Primo cuts those horns over the track. Shit makes me want to give up making music. Its that dope.
7.
Suspended In Time - Group Home
Now this is a good example of a producer carrying a group. 2 mediocre emcees and one insanely hype dj/producer = one decent fucking album. This whole album has some of the dopest Primo tracks ever composed. He just brought some real heat to the table. It kind of sucks though that he gave it to Group home. Group Home was a branch off of the Gangstarr clique that started with the release of Jeru's album The Sun Rises In The East. Which Primo did all the beats, with the classic Come Clean. Not really a fan though of the lyricism of Lil Dap and that other dude. I heard from one of my boys though that Lil Dap is out here in Wilkes Barre PA, lately. He was bullshiting with him at some bar. Dap if your reading this hit me up for some production work. haha
8.
Music Evolution - Buckshot LeFonque
Now this is my shit right here. This group was Primo and Branford Marsellus's project where they fused Jazz and hip hop into one sound. Branford is a great jazz musician and has mad clout in jazz circles. This album was executive produced by Primo though which is dope. He put scratches and dope beats on a album that got received extremely well by mad jazz cats. I really like both albums that they did. This track here though is crazy. The beat has those signature Primo chops, the dope bass and that oriental sound that is thrown in there. Im really a fan of the lyrics though. I forget the emcees name, but he kicks rhymes about how music evolved from jazz and hip hop and where its at now and he makes comparisons between the two. Shit is dope.
9.
The Shit is Real - Fat Joe
There once was a time when Fat Joe was one bad ass motherfucker. Now he is doing corny pop albums, and boost mobile commercials. I cant hate though cause dude was one rugged ass cat in the 90's. He rolled with DITC and just killed shit. This beat here is banging. I love the sounds Primo uses and the hook is crazy. Joe just kicks that gritty killa shit on the track and it just comes off dope as fuck.
10.
Downtown Swinga '98 (Alternate Vers) - MOP
Primo actually put these cats on and laced them with mad beats when they were coming up. The chemistry they have together is so tight and just really blends perfect. This song here had 3 versions of it made cause it was so dope. This is my favorite vers though. I love that horn sample that sounds like it came from a cartoon or some shit. Its just sick. MOP really come correct on this track though. And just really show why they some of New Yorks Finest. DOOOPPPEEEEEE.
BONUS BEATS:
Ex Girl To Next Girl - Gangstarr
I love this track. The beat is just so sick. I love the sample he uses. Guru just kicks rhymes about his ex trying to get back but he moved onto new puss so he don't want nothing to do with her ass. Some real shit.
And that's that. I know i missed a lot of dope tracks, but dude has so many its not even funny. A couple of cats though like Freddie Fox, Jigga, Biggie, Nas, Snoop, and mad others, deserve to be on this list, but at the moment these are my favorites. So enjoy one of hip hops legendary beat smiths. I got to get my drink on. PEACE.