Skys the Limit. No I.D.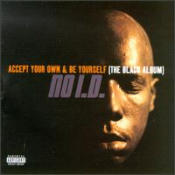 Last night I finally used Serato Scratch Live for a DJ gig. I broke my cherry. There was a few crashes though that geeked me the fuck out thought. Music went straight up dead and people were like WHAT THE FUCK??? But overall it went mad smooth. I loved it. Mad music at my disposal. I just have to bring records with me in case shit hits the fan and my laptop decides to take a shit on me. But in other news we got another writer on board, 3rdoptic. He is a producer out in NYC that has a great knowledge of dusty records and hip hop. So look forward to him posting up more shit. Today though imma talk about No I.D. This cat is one damn good producer. He hails from Chi-City and has mentored such cats as Kanye West on the production tip, and has contributed some classic tracks to Common. He did a lot of the beats on Com's second album
Resurrection
such as Resurrection, Used To Love H.E.R., and a Penny For Your Thoughts. He also rhymed on one track on that album, but he really isn't known for that. In 1997, he put together a pretty decent album called Accept Your Own And Be Yourself (The Black Album). This joint is pretty banging. With him and Doug infinite handling most of the rhymes and all the production it came out as a solid release on Relativity Records, (Com's old label). The rhymes are sort of generic, but the beats are spectacular. He really flexs his production muscles on this joint. Nice dusty samples like organs, and mad filtered basslines. And his drums just knock. Dude got some bangers.There is some chick on it named Syndicate, which im not really feeling, and an appearance by Com Sense, which adds some flavor to the album. The album was slept on hard unfortunately. But No I.D. had some luck back in 2002, when he got signed to Def Jam to do 3 albums for them. I haven't heard anything from him (edit: I was told by this cat DJames that he did a Lil Bow Wow track recently. Ive never heard it.)but I did see his ass on VH1's Driven for Kanye West. So check this album out.
Amazon has copies but there pretty expensive.
Fate Or Destiny
State To State
Pray For The Sinners
Skys The Limit (Inf Remix)