All I Want To Do Is Party N Bullshit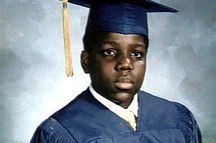 RIP to Biggie Smalls. Today was the day of his tragic death (March 9th), so gots to show a lil respect for the "Black Frank White". He was a great emcee and left a big mark on hip hop. U all know the steez.
Heres a few cuts from homes. Enjoy

Flava In Ya Ear (remix)- Craig Mack ft. Biggie, Busta, LL, and a bunch o cats
The Ugliest (dilla remix)
Live at Madison Square - ft. Big Daddy Kane, Shyheim, Tupac, and Biggie
A Bunch Of Niggaz - Heavey D and the Boyz
Aight in other news, we got a new writer joining the staff. His name is Elmacaco, so look out for posts by him. Hes a real knowledgeable cat and I think he gonna add a lot of flavor to the site.
Aight heres the latest shit on the 50 Cent, Jada, Fat Joe "beef". (thanks to junior cartel for the links)
50 cent also made up with the game today
. How cute. Check out
Funkdigi
to see the truce he made today and audio from pre-truce interview on Street Soliders where he talks bout the Game and if this was just a tactic to sell records. HMMMMMMMM.........
Jada's Diss
Fat Joe's Diss
Fat Joe - Dont Test Me
Here is that ill
beat diggin video link 1
Link 2
the at has been floating around. The OG link is dead, but i did the ol yousendit. It has Show, Diamond D, Evil Dee, Mr Walt, and some other ill cats on it. Dont get it mistaken for
Beatdawg's
video though. But that shit is hot,
cop it here
. It comes at the whole diggin shit diffrently and gives bios on alot of ill artists. Diamond D looks like he just did a rail of yay, all sweating and shit.
And here is
James Brown
wilding out in a older interview. Pretty funny shit. (thanks to junior cartel for the link).
Heres that
RZA interview
that was on NPR's Fresh Air. (thanks to
O-Dub
for the link) Its a 50 min joint so sit back and listen to what the Abbot got to say.
Thats it for now. PEACE.