Funkin' Around: Dope Tracks And Some Links For That Ass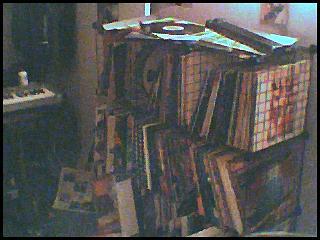 Enough jazz. Im on the funk tip tonight. Figured I would make a post cause the whole beat thing is a lil stagnant this evening. Just ain't got that magic tonight. Anyways, here are 3 funky cuts that I've been bumpin in the ipod as of late.
1.
Elliot Fisher - For the Love Of Money
This is a dope cover of the O-Jay's banger of the same title. The joint that asshole
Donald Trump
used for his big ego-fest television show,
The Apprentice
. He was a violinist who did work with Sam Cooke, Ronnie Laws, Johnny "Guitar" Watson and a few other cats. Most recently this cut has been on a few comps. It starts out with the ill guitar riff, then kicks into a rugged breakbeat. I like this version because the vocals are substituted with Elliot on the violin. The guitars on this joint are ill though. Real funky shit.
2.
Lee Arnold Trio - Funky Chimes
This is a banger. Real dope chimes/vibes and a funky ass breakbeat. Nice and mellow. I like it when the bass breaks down and the keys kick in. Some smooth shit.
3.
Grant Green - Aint it Funky Now
Grant Green is a legendary blues/rnb guitarist. I will do a whole post on him later on down the road, but for now i will give you a funky cut of his. This song is pretty fuckin funky. He rocks out with a organist, and some nice horns are sprinkled throughout. Grant is truly one bad motherfucker on the guitar. He rips shit up on this track.
And now for some links:
JOIN THE LOW END THEORY FORUMS!!!!!!!!!!!!!!!!
Jadakiss gettin punked
and
C-Murda aint even worthy of a pen in the bing
(thank
Cuban Linx
for the linx)
McDonalds is paying rappers to name drop burgers
. I think this is real gay. Now u watch all these compaines are gonna catch on and u gonna have some crazy marketing in hip hop. You thought this shit was bad now, just wait. GAYE
New Jay Dilla track - The Love
Percee P Freestyle Video
(need realplayer)
Combat Jacks 5 Gulliest Moments he experienced in the music biz. Check out parts 1 thru 3 at
Bol C's blog
. Funny ass storys bout R.A. the Rugged Man, Pete Rock and most recent P Diddy.
XXL Magazine making of Cuban Linx
(off
okayplayer.com
)
Thats it for now bitches. PEACE